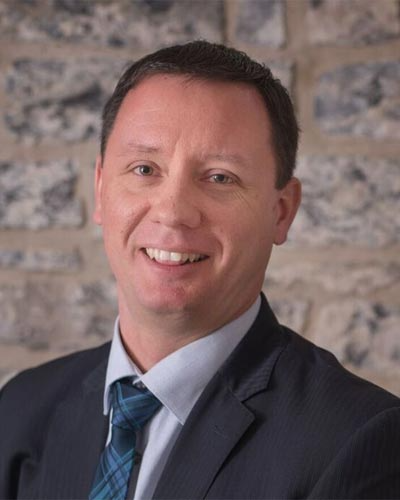 Tim Reynolds, CFP®, CHS
Certified Financial Planner
Investment Representative
Since entering the financial advisory industry in 2007, Tim has committed himself to helping his clients achieve their own definition of financial security and well-being. As a married father of three, and a homeowner, he understands the everyday needs, concerns, and uncertainties facing young families both today and in the future. He has also had an eye towards his own retirement, and with a large number of his clients either in or approaching retirement, has spent an large portion of his career to date helping these clients navigate through this complex time in their lives. This has given him both the experience and knowledge to advise in this area with confidence and wisdom.

Tim believes that "knowledge is power", and set a goal early in his career to attain relevant professional designations and further his financial education. He completed the education requirements and obtained the Certified Financial Planner® (CFP®) designation as well as the Canadian Health Insurance Specialist (CHS) designation in the summer of 2011. These designations show his commitment to both his clients and his education, and give him the ability to confidently advise his clients. The next designation Tim is looking to attain is the Charter Life Underwriter (CLU), which he hopes to begin later this year.

Tim and his wife, Mary Ann, live in Napanee, with their children, Ross, Devin and Natalie.
Tasha Howe, B.Comm.
Insurance Advisor
Investment Representative
Since entering the financial advisory industry, Tasha has committed herself to providing personalized and professional service for each and every client.

Tasha holds a Bachelor of Commerce Degree from the University of Guelph. Following university Tasha moved to western Canada where her entrepreneurial drive led her to open a restaurant in Kelowna, BC. After 9 years of being away from her tight knit family, Tasha made the decision the sell her share of the business and move back closer to home.

Helping people, whether it's planning for retirement or buying a home, is truly Tasha's passion. In addition to developing a custom financial plan for each client, she conducts regular meetings with clients to review performance, reconfirm financial goals and make adjustments as lifestyle or economic conditions warrant.

She lives in Napanee with her husband and two daughters.
Allan R Joudoin, QAFP
Financial Planner
Investment Representative
Allan entered financial services in 2009 with Freedom 55 Financial after 20 successful years in plant management and director roles in manufacturing where he was respected for being results-oriented, possessing excellent business judgement, and consistently demonstrating the ability to develop and execute strategic plans. Allan's diverse business management background provides valuable insight into client's needs as it relates to work-life balance, quality of life, understanding what is important, and realizing their personal/business financial needs potential using a common sense approach. Allan's office is located in beautiful downtown Brockville, ON.

Allan's mission is to provide creative financial security planning solutions tailored to each individual or business. These solutions provide clients with the risk management strategy and support they need in managing, protecting, and ultimately passing on wealth along with supporting business needs like Group Benefit plan solutions, Disability Protection for professionals, and corporately held life insurance plans.

As a graduate of the Electrical Engineering program at St. Lawrence College Brockville, Allan has dedicated his career to lifelong learning, opting to expand my knowledge in the areas of financial planning. Having completed the Business Owner Specialist Program developed by London Life, Allan is now pursuing his Certified Financial Planning professional (CFP) and Chartered Life Underwriter (CLU) designations. As professionalism among financial advisors is extremely important to Allan, he is a member of Advocis, The Financial Advisors Association of Canada.
Stephen Joudoin, B.Ed
Insurance Advisor
Représentant en investissement
Stephen entered the financial advisory industry in 2021 after a decade of working in the field of education as a teacher and administrator. After playing an influential role in the lives of his students, he now plays an influential role with families, working professionals, as well as businesses and assists them in defining and developing plans based on their goals and personal definitions of success.

Whether you're starting a new family, preparing for retirement, or running a business, Stephen will work with you to build a customized financial security plan that best fits your needs. Ultimately, he takes on the responsibility to understand what is most important to his clients and to implement a planning approach that is purposeful and meaningful to them.

Stephen lives just north of Brockville with his wife and daughter where they look after horses, ponies, and their donkey on a hobby farm. His office is located in the historic and beautiful downtown area of Brockville, Ontario.
Craig Kasaboski, QAFP
Insurance Advisor
Investment Representative
Craig is committed to helping his clients achieve their own definition of financial security and well-being. As a married father of two, and a homeowner, he understands the everyday needs, concerns, and uncertainties facing young families both today and in the future.

Craig works with clients, planning strategies to maximize their investment into their future and to help minimize the impact that an unforeseen event would have on their financial security. Craig had been working at Collins Blay LLP as an accountant for 18 years before joining Freedom 55 Financial and feels this helps enhance his abilities in taking care of his clients.

He volunteers his time with Ducks Unlimited – Westport and Rideau Lakes chapter and has been a soccer coach/volunteer with Kingston United, Kingston Clippers and Queens Junior Gaels.
Mary Ann Reynolds
Insurance Advisor
Investment Representative
After many years working as a Ward Clerk at Hotel Dieu Hospital in Kingston, Mary Ann decided to take her career in a different direction and become a Financial Security Advisor. She joined her husband, Tim Reynolds at L&A Financial in 2020, seeing the benefit of working together to help build their business and contribute to the day to day running of operations in the office.

Mary Ann and Tim live in Napanee with their two daughters, two dogs and their grown son lives nearby. Mary Ann would love to talk to you and help you with your financial and insurance needs.
Bob Vrooman, CFP®, CLU, CH.F.C.
Certified Financial Planner
Investment Representative
Bob has been with London Life since 1972, and during this time he has obtained his Chartered Life Underwriter (CLU), his Chartered Financial Consultant (CH.F.C.) and his Certified Financial Planner® (CFP®). These designations show Bob's commitment to his clients, by doing all that is required in order to provide them with excellent service.

At present Bob devotes the majority of his time to pensions and arranging retirement cash flow for his clients.

Supporting our community is important to Bob and he has served in several volunteer capacities in the past, as well as presently.

Bob and his wife Jean reside in Napanee and have three adult children and three grandchildren.
Crystal MacKenzie
Mortgage Specialist
Greater Ontario Region
Crystal has been assisting Canadians with their mortgage and borrowing needs since 1992, giving them sound financial advice. She has held the Accredited Mortgage Professional designation since 2009, and she is now our local Mortgage Specialist available to us through the new BMO/Canada Life Partnership. she looks forward to meeting our clients and assisting then with their lending needs.
Crystal is originally from Nova Scotia, and currently lives in Kingston. In her spare time she volunteers in the community, is a motorcycle enthusiast, plus mother of 2 adult boys, and grandmother to 2 granddaughters.